Plantagenet Ancestry
This page was set up by Robert Sewell in February 2002 to show the descent of the Sewell Family from their Plantagent or Angevin ancestors. As well, we find here a link to Elizabeth de Crépi of Vermandois and the Carolingian Kings of France.
To see where all this information came from, please click on Sources.
Click to return to the main Magna Charta page.
Generation One
Geoffrey "Ferole", Count of the Gâtinais and Château Laudon
circa 1000
Geoffrey married Beatrice de Mâcon, daughter of Aubri Count of Mâcon and Burgundy and they had a son:

Generation Two
Aubri Geoffrey, Count of the Gâtinais and Château Laudon
Died on April 11, 1046
Aubri Geoffrey married Ermengarde, heiress of Anjou who was born circa 1010/1015 and died on March 21, 1076. Ermengard was the sister of Geoffrey "Martel", Count of Anjou who was born on October 14, 996 and d.s.p. (decessit sine prole, died without issue) on November 14, 1066. Thus, Ermengard's descendants became the Counts of Anjou.
Aubri Geoffrey and Ermengard had the following children:
Hildegard who was born circa 1032 and married Joscelin, Sire di Courtenay

Generation Three
Fulk IV "le Rechin", Count of Anjou
Born in 1043
Died on April 14, 1109
Fulk is noted as "chronicler of the Counts of Anjou", so presumably he began a family history. He is known as "Fulk le Rechin" which means "Fulk the Rude". The reason for this name is unclear.
Fulk married Bertrada de Montfort, daughter of Simon I, Seigneur of Montfort Amauri and they had a son:

Generation Four
Fulk V "le Jeun", Count of Anjou and Maine, King of Jerusalem
Born in 1092
Died on November 10, 1143
Fulk "le Jeun" (the Younger) became King of Jerusalem in 1131 on the death of Baldwin II, his father-in-law by his second marriage. Fulk is buried in the Church of the Holy Sepulchre in Jerusalem.

The Crusades

left: A depiction of the siege of Jerusalem during the First Crusade, where many thousands of the Jewish and Arab inhabitants were killed.
below: Krak de Chevaliers, a Crusader fortress.
The Crusaders set up the Latin Kingdom of Jerusalem after killing many thousands of the Arab and Jewish inhabitants of the area. At its greatest extent under Fulk "le Jeun", the Kingdom comprised most of present day Israel and part of Syria. Muslim counterattack steadily shrank the size of the crusading kingdom. In 1187, Jerusalem was retaken by by Saladin. Eventually, the last Christian stronghold at Acre surrendered in 1291 and the Crusaders departed from the Holy Land.
Fulk married first circa 1108 to Erembourge (died in 1126), heiress of Maine, daughter of Helias, Seigneur de la Flèche, Count of Maine.
Fulk and Erembourge had the following children:
Isabella or Mathilda who married William the Aetheling, Duke of Normandy who was the only legitimate son of King Henry Beauclerc of England. William drowned when the White Ship was wrecked on the deadly rock. A boat was launched and William was rowed to safety. The cries of his half-sister Maud, Countess of Perche, induced him to return to the wreck where they sank together. This was considered by some to be punishment for Henry's sins of lust in having so many illegitimate offspring. He had four legitemate children and at least twenty-five illegitimate children.
Fulk "le Jeun" married second on June 2, 1129 to Mélesinde, daughter of Baldwin II, King of Jerusalem. On the death of Baldwin II in 1131, Fulk "le Jeun" became King of Jerusalem.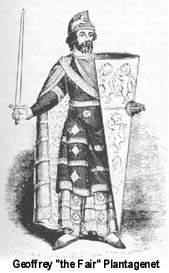 Generation Five
Geoffrey "the Fair" Plantagenet, Count of Anjou and Maine, Duke of Normandy.
Geoffrey "the Fair", meaning "the Handsome" was the first to use the Plantagenet name. One story relates that his father, Fulk the Younger atoned for some evil deed by being scourged with broom twigs or planta genista before the Holy Sepulchre in Jerusalem. Another story relates that Geoffrey wore a sprig of broom or planta genista in his hat. Regardless, it is generally agreed upon that the family name of "Plantagenet" has its origins with the planta genista or broom plant.
Born on August 24, 1113
Died on September 7, 1151 and interred at St. Julian's Church, Le Mans, Anjou.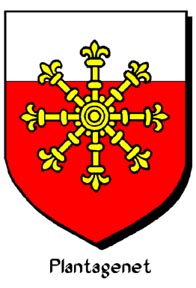 The arms of Plantagenet are described by Richard Thomson: "Ancient Arms of Anjou borne by the Plantagenets, who were Earls of that place, of which family King John was descended. Gules, a chief argent over all an escarbuncle, or." Note that:
(1) Shields were sometimes strengthened with iron bands radiating from the centre which eventually became a part of the coat of arms under the term escarbuncle, and;
(2) Geoffrey "the Fair" Plantagenet pictured above doesn't appear to be carrying these arms.
Geoffrey married on May 22, 1127 to Matilda of England who was born in 1104 and died on September 10, 1167. Matilda was the only surviving legitimate child of King Henry I of England. After the death of Henry I in 1135, Geoffrey laid claim to Normandy through his wife Matilda. Meanwhile, Matilda attempted the conquest of England from her cousin King Stephen who had gained the crown. Geoffrey did not accompany her, being still engaged in the conquest of Normandy, which he completed in 1144. In 1147 he undertook a crusade with King Louis VII of France. In 1150, Geoffrey and Matilda ceded Normandy to their son Henry (later King Henry II of England), who founded the English Angevin dynasty. Click on Matilda for her ancestry.
Geoffrey and Mathilda had the following sons:
Henry II Curtmantle, King of England, born March 5, 1132/33. Click Here for this line.
Geoffrey VI, Count of Nantes and Anjou, born June 1, 1134 and d.s.p July 26, 1158
William Longespée (also William Fitz Empress), Vicomte of Dieppe, born July 21, 1136 and died January 30, 1163/64. (not to be confused with his nephew William Longespée, named in the Magna Charta)

(Douglas Richardson, Plantagenet Ancestry, Baltimore, 2004, p. 2 & 3)
Geoffrey was associated with an unknown girlfriend, said by Brian C. Tompsett to be named "Adelaide of Angers". Geoffrey and his girlfriend had a son: Geoffrey also had two daughters, but the mother is not known:
Emma (or Emme) Plantagenet who married Dafydd Ab Owain, Prince of North Wales
Mary, Abbess of Shaftesbury
Generation Six
Hamelin Plantagenet de Warenne, Earl of Surrey
Born circa 1129
Died on May 7, 1202

Hamelin married Isabel de Warenne, daughter of William de Warenne, 3rd Earl of Surrey who died on January 19, 1148 while on the Second Crusade in the Holy Land. Please Click Here for Isabel's ancestry.
Hamelin Plantagenet adopted the name of Warenne or Warren and became the Earl of Surrey.

Hamelin and Isabel had the following children: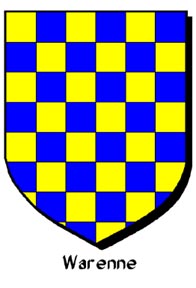 William de Warren, Earl of Warren and Surrey who is named in the Magna Charta as an advisor of King John. The Arms of William de Warren, also called William Plantagenet, are described by Richard Thomson as "Checquée or and azure" and are pictured to the right.
Ela Plantagenet who married William Fitz William of Sprotborough, Yorkshire.
Isabel Plantagenet who married 1st Robert de Lacy who died in 1193 with no issue and 2nd Gilbert de L'Aigle who died in 1234.
Maud Plantagenet who married Henry, 6th Count of Eu, Baron of Hastings, Sussex.
(daughter) de Warenne who "had an affair" of King John.
For the continuation of this line, please CLICK HERE
---
Click to return to the top of this page.
Click to return to the main Magna Charta page.
Please visit the Sewell Genealogy Site Map for other pages in this series.