Bigod Genealogy
This part of our family tree begins with Robert le Bigod, a poor knight from Normandy who accompanied Duke William in 1066 and traces our descent through Magna Charta Sureties Roger and Hugh Bigod to Princess Marjory Bruce and Robert II Stuart.
As well, it is in this line that we find links to the families of Marshal, Plantagenet and Stewart.
Click to return to the main Magna Charta page.
To see where all this information came from, please click on Sources.
Generation One
Robert le Bigod
Flourished circa 1066
The first Bigod to appear in history is Robert le Bigod, a poor Knight, who gained the favour of William, Duke of Normandy, by informing him of the intended treachery of William Werlenc, Count of Mortain. Robert held the lands of Malitot, Loges and Chanon in Normandy and served Duke William as one of his seneschals. He is described at the Battle of Hastings as; "Small of body, but brave and bold, he assaulted the English gallantly".
Robert le Bigod had a son:

Generation Two
Roger de Bigod
Died on September 8, 1107
Roger is also believed to have served on the Field of Hastings although there is no mention of him in English records before 1079. He was endowed with the forfieted estates of the Earl of Norfolk, Ralph de Guader who's downfall took place in 1074.
In the Domesday Book Roger appears as holding six lordships in Essex, and 117 in Suffolk. In 1101 he was given the estates of Framlingham by Henry I which were to become the principal stronghold of the Bigods for more than 200 years. Roger de Bigod died in 1107, and was suceeded by his eldest son, William Bigod. He drowned in the wreck of the White ship on 26th November 1120 and Roger's second son, Hugh Bigod inherited all and took possession of the estates.
Roger married first to Adelaide and they had the following children:
William de Bigod, drowned in the wreck of the White Ship on November 26, 1120.
Gunnor de Bigod
Roger married second to Alice de Toeny (also Adelaide and Adela; de Tosny and de Toeni) who was a daughter or perhaps a granddaugher of Robert de Toeny (de Tosny, de Toeni) who may have been at the Battle of Hastings. Roger and Alice had the following children:
Hugh de Bigod
Maud de Bigod
Cicely de Bigod

Generation Three
Hugh de Bigod, 1st Earl of Norfolk

Born circa 1095
Died in 1177 while in the Holy Land with Philip of Flanders

Hugh was Constable of Norwich Castle and Governor of the City of Norwich in 1122. He was excommunicated in 1169, and must have been quite an old man when he died in 1177.

Hugh married Juliana de Vere, a daughter of Aubrey de Vere, Justicar of England and Alice de Clare, a nun who was a daughter of Gilbert Fitz Richard de Clare. Juliana de Vere's nephew was Magna Charta Surety Robert de Vere (circa 1165 - 1221) Click on De Vere for Juliana's descent.

Hugh and Juliana had a son:


Generation Four
Roger Bigod, 2nd Earl of Norfolk, Magna Charta Surety
Died in 1221

Framlingham Castle, Suffolk
Roger Bigod, 2nd Earl of Norfolk, built Framlingham circa 1190 - 1210. This revolutionary new castle without a keep reflected crusader experience; and is reminiscent of Byzantine fortresses. Its vast curtain-wall laced with strong towers enabled a large force including cavalry to be kept in the area of maximum defensibility.

Paul Johnson, Castles of England, Scotland and Wales, London, 1989
For more photos and details, click on Michael W. Cook's Framlingham Castle page.
The following is an excerpts are from Richard Thomson: An Historical Essay on the Magna Charta of King John, London, 1829; Pages 279 – 280:
"Roger Bigod, Earl of Norfolk, was the son of Hugh, Steward to the Kings Henry I. and II., who was descended from Roger Bigod, or Bigot, who in the time of William I. held several Manors in Norfolk; 6 Lordships in Essex; and and 117 in Sufolk. Camden, in his Remains, Lond. 1636, 4to. page 123, states the name to be Norman, signifying Superstitious, or a Bigot; a word of which the Etymology remains yet uncertain, though it is allowed to have been adopted from that language."
"Camden adds, that the people of France used to call the Normans Bigods, because at every other word they would swear by God; and hence the family of Bigod coming from Normandy,was known by this national characteristic name. In 1189, the 1st of Richard I., a charter was issued, dated Westminster, Nov. 97th by which Roger Bigod was constituted Earl of Norfolk the office of Steward was also confirmed to him, to gether with several Lordships, for all which he gave the King the sum of 1000 marks or £660 13s. 4d."
"In the 15th year of the same King, he attended him into Poictou; in 1215 he was one of the Baronial party which exacted from him the Great Charter; and was appointed one of the 25 Securities of that instrument, for which he was excommunicated by Pope Innocent III. . . . and his son Hugh succeeded him in his estates in 1220-21, the 5th of Henry III., in which year Roger Bigod is supposed to have died."

Richard Thomson also mentions: "He married Isabel, daughter of Hameline, Earl of Warren and Surrey . . . "

. . . Richard Thomson: An Historical Essay on the Magna Charta of King John, London, 1829; Page 280

More recent sources agree that Roger Bigod married Ida de Tosny, who was very likely a daughter of Ralph V de Tosny (died 1162) and his wife Margaret (born circa 1125 and living in 1185), a daughter of Robert de Beaumont, 2nd Earl of Leicester. However, absolute and conclusive evidence of Ida's parentage is lacking. Prior to marrying Roger Bigod, Ida was a "girlfriend" of King Henry II and mother of William Longespée.

See Douglas Richardson: Plantagenet Ancestry, Baltimore, 2004, pages 456 – 457
and Marc Morris: The Bigod Earls of Norfolk in the Thirteenth Century, Woodbridge, Suffolk, 2005, page 2
Roger married around Christmas 1181 to Ida de Tosny and they had the following children:
Hugh Bigod
Mary Bigod who married the Yorkshire baron Ranulf fitz Robert.
Margaret Bigod who married the royal steward William de Hastings.
Alice Bigod who married Aubrey IV de Vere, 2nd Earl of Oxford (1163 - 1214, d.s.p.)
Roger Bigod
Ralph Bigod
William Bigod
John Bigod

Generation Five
Hugh Bigod, 3rd Earl of Norfolk and Earl Marshall of England.
Died: 1225
Hugh Bigod was one of the 25 sureties of the Magna Charta.
The following is an excerpt from Richard Thomson: An Historical Essay on the Magna Charta of King John, London, 1829; Page 311: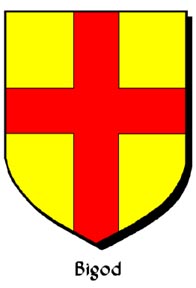 "Of the family of Hugh Bigod, or Bigot, some account has already been given . . . since he was the eldest son of Roger, Earl of Norfolk, whose Arms, Or, a Cross Gules, he bore . . ..
"Hugh Bigod succeeded to his father's estates in 1220-21, the 5th year of Henry III. There are but few particulars of this Baron's life extant, for he enjoyed the title of Earl of Norfolk but a very few years, since he died in 1224-25, the 9th of Henry III . . .."
Hugh married in 1207 to Maud Marshal, Marshall of England, daughter of Sir William Marshal. Please click on Marshal for Maud Marshal's descent.
Hugh and Maud had the following children:
Roger Bigod, 4th Earl of Norfolk, born in 1212
Hugh Bigod, Justiciar of England
Isabel de Bigod
Sir Ralph Bigod
William Bigod

Generation Six
Isabel de Bigod
Isabel married first to Gilbert de Lacy (died in 1230) and they had the following children:
Margery de Lacy
Maud de Lacy
Walter de Lacy
Isabel married second after 1230, Sir John Fitz Geoffrey who was a son of Geoffrey Fitz Piers, Earl of Essex. Sir John Fitz Geoffrey was Justicar of Ireland 1245 – 1256. He died on November 23, 1258.
Isabel and John FitzGeoffrey had the following children:
Isabel FitzJohn
Sir John FitzJohn
Richard 1st Lord Fitzjohn
Maud FitzJohn
Aveline FitzJohn
Joan FitzJohn

Generation Seven
Aveline FitzJohn
Died about May 20, 1274
Aveline married Walter de Burgh (1230 – July 28, 1271), Earl of Ulster. Walter's parents were Richard "the Great" de Burgh, Lord of Connacht and Lord Lieutenant of Ireland and Egidia de Lacy who was the daughter of Walter de Lacy, Lord of Meath.
Aveline and Walter had the following children:
Richard de Burgh, the Red Earl, 3rd Earl of Ulster
Egidia de Burgh

Generation Eight
Egidia de Burgh
Egidia married James Stewart, 5th High Steward of Scotland and they had the following children:
Andrew Stewart
Walter Stewart
Sir John Stewart, killed at Dundalk, 1318
Sir James Stewart of Durrisdeer
Egidia Stewart

Generation Nine
Walter Stewart, 6th High Steward of Scotland
Born in 1293
Died on April 9, 1326
For the descent of Walter Stewart, click on Stewart.
Walter married first to Alice Erskin, and they had a daughter:

Walter married second in 1315 to Princess Marjorie Bruce, daughter of Robert the Bruce. Princess Marjory Bruce died on March 2, 1316, the same day her son was born:
Robert Stuart, King Robert II of Scotland, born March 2, 1316
Walter married third to Isabel Graham, and they had the following children:
Sir John Stuart of Ralston
Egidia Stuart
Sir Andrew Stuart

Generation Ten
Robert II Stuart, King of Scotland 1370/71 - 1390
For the continuation of this line, click on Robert II Stuart.
Click to return to the top of this page.
Click to return to the main Magna Charta page.
Please visit the Sewell Genealogy Site Map for other pages in this series.