Stewart
This part of our family tree begins with Alan, the Dapifer or Steward of an estate in Brittany around the time of the Norman Conquest of England and traces the descent to Walter Stewart, 6th High Steward of Scotland who married to Princess Marjory Bruce in 1315. The family that became the Stewarts and Stuarts of Scotland were invited to Scotland during the reign of King David I.
Alan, the Dapifer of Dol in Brittany, was of Celtic extraction. Brittany was a separate Celtic country founded by Welsh, Cornish and probably Strathclyde immigrants who settled there in the early IIIrd, IVth and Vth centuries. Alan's family is said to have been a cadet branch to the Dukes of Brittany who were kings two centuries earlier. Hence, while Alan's descendants were followers of William the Conqueror, they were not of Norman extraction.
Shakespeare's Macbeth (based loosely on Holished's Chronicles) indicates that the House of Stewart originated from Banquo, Thane of Lochaber. Banquo probably never existed; but was invented to give the Stewarts an ancient Scottish origin that was easy for contemporary audiences to understand.
Click to return to the main Magna Charta page.
To see where all this information came from, please click on Sources.
Generation One
Alan, Dapifer of Dol, was the hereditary Steward or Dapifer of Dol-de-Bretagne is about 30 miles north of Rennes in Brittany, France. A steward or dapifer was the man responsible for running the day to day affairs of the lord's lands, usually supervising several manors.
Born circa 1020 Dol-de-Bretagne, Ille-et-Vilaine, France.
Died circa 1050
Alan had the following children:
Alan, Seneschal of Dol was born about 1050. He was one of the leaders of the First Crusade, and he perished circa 1097 in Jerusalem, apparently dying without issue, as his inheritance reverted to his brother Flaad.
Flaald
Rhiwallon FitzAlan became a monk and was the Abbot of St. Florent de Saumur.
Robert of Dol

Generation Two
Flaald, Seneschal or Steward of Dol. He confirmed circa 1097 a grant by his brother Alan of a site for the Abbey Mezuoit attached to the Church of St. Florent de Saumur. Flaad was on the Welsh border circa 1101.
Born circa 1046 at Dol-de-Bretagne, Ille-et-Vilaine, France
Died in 1110
Flaad had a son:

Generation Three
Alan FitzFlaald obtained a grant of the castle of Oswestry in Shropshire and was Sheriff of Shropshire.
Born circa 1078 at Dol-de-Bretagne, Normandy, France and christened at Shropshire, England
Died circa 1114
Alan FitzFlaald married Adeliza de Hesding, a younger daughter of Aurnulf, Signor de Hesding in Picardy who held great estates in England at the time of the Domesday Book in 1086.
Alan and Adeliza had the following children:
William FitzAlan, born circa 1105, died on Easter, 1160.
Walter FitzAlan
Simon (Jordon) FitzAlan, hereditary Steward or Dapifer of Dol, is sometimes described as the eldest son, and sometimes as the youngest.
Sybil FitzAlan who married circa 1132 to Roger de Freville

Generation Four
Walter FitzAlan, 1st Steward of Scotland
Born circa 1105 at Oswestry, Shropshire, England
Died in 1177
The title of Steward of Scotland was bestowed on Walter FitzAlan by David I, King of Scotland (1124 - 1153); under whose reign and the reigns of his brothers Edgar and Alexander before him, the Anglo-Norman feudal system and culture became more established in Scotland. King Malcolm IV (1153 - 1165) confirmed the honour bestowed by David I and made the office of Steward of Scotland hereditary in Walter's family. For more about David I, click on David the Saint of Scotland.
Walter founded the Abbey of Paisley for monks of the Clunic order in 1160; and he defeated Somerled of the Isles in 1164.
Walter married to Eschina de Londonius, widow of Robert de Croc and probably daughter of Thomas de Londonius.
Walter and Eschina had the following children:
Alan FitzWalter
Simon FitzWalter
Margaret FitzWalter

Generation Five
Alan FitzWalter, 2nd High Steward of Scotland
Died on August 24, 1230
Alan was present with his father at the defeat of Somerled of the Isles in 1164, and in 1191 he accompanied King Richard on the Third Crusade.
Alan married first to Eva, daughter of Sweyn Thor'sson, overlord of Cranford.
Alan married second to Alesta and they had the following children:
Walter FitzAlan
David FitzAlan
Leonard FitzAlan

Generation Six
Walter Stewart, 3rd High Steward of Scotland and Justicar of Scotland.
Instead of taking the name "Walter FitzAlan", Walter adopted the name of his office and became known as Walter Stewart. Thus, he is the first Stewart from whom all the names are descended. He was appointed Justicar of Scotland in 1230. The ancient arms of Stewart are described by A.C. Fox-Davies in A complete Guide to Heraldry (London, 1909) is "Or, A fesse chequée azure and argent"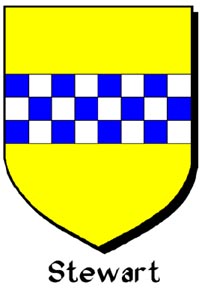 Died in 1246
Walter married to Beatrix Gilchrist of Angus, daughter of the Gilchrist, 4th Earl of Angus and his wife Marjorie who was a daughter of Henry of Huntington. Click on Henry of Huntington for this line.
Walter and Beatrix had the following children:
Alexander Stewart
Sir Robert Stewart
John Stewart
Walter Bailloch Stewart, Earl of Menteth
William Stewart
Beatrix (Elizabeth) Stewart
Christian Stewart
Margaret Stewart, who married her cousin Neil, 2nd Earl of Carrick

Marjory, Countess of Carrick who married Robert Bruce. Marjory and Robert are the parents of the Scottish hero Robert the Bruce. Click on Robert the Bruce for details.

Sybella Stewart

Generation Seven
Alexander Stewart, 4th High Steward of Scotland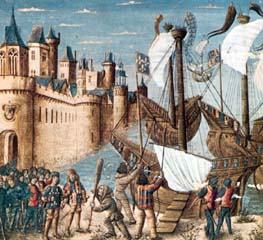 Born in 1214
Died in 1283
Alexander attended St. Louis of France to the Holy War (see picture to the right), and he was the principal commander under King Alexander III at the Battle of Largs October 2, 1263 when the Scottish army defeated the Norwegians. He received from Alexander III a grant of the Barony of Garlies in Galloway on November 30, 1263. In 1264 he invaded the Isle of Man.
Alexander Stewart married to Jean MacRorie, daughter and heiress of James MacRorie, Lord of Bute and Arrah, son of Angus MacRorie, Lord of Bute
Alexander and Jean had the following children:
James Stewart
John Stewart of Bonkyl who died at the Battle of Falkirk on July 22, 1298 fighting for Sir William Wallace. John Stewart married Margaret de Bonkle, daughter and heiress of Sir Alexander of Bonkle. Their daughter:

Isabel Stewart who married Thomas Randolph, Earl of Moray; their daughter:

Agnes Randolph who was known as "Black Agnes". She defended the Castle of Dunbar and repulsed the English under the Earl of Salisbury in 1338.

Elizabeth Stewart who married Sir William, 3rd Lord of Douglas
Black Agnes Randolph

Two generations of heroic Scotswomen supported and suffered in the Bruce cause, nearly all of them as nameless as their sons and husbands who did likewise. They could all take heart from the example of Black Agnes Randolph, Countess of Dunbar. Mistress of the strategic Dunbar Castle, controlling the coastal route to Edinburgh, she took charge in 1337 when the Earl of Salisbury besieged it.
The English had a battering ram, 'the Sow', covered by a wooden roof. Agnes had a large stone dropped through the roof, scattering the men beneath. When her brother, in English custody, was brought in front of the castle and threatened with death, she scorned them, saying if he died, she would be the Earl of Moray.
On June 10, 1338, the English gave up and raised the seige.

David Ross, Scotland: History of a Nation, pg. 101(Edinburgh, 2000)
picture from The Book of History, Vol. IX pg. 3919 (London, 1914)
Generation Eight
James Stewart, 5th High Steward of Scotland
Born in 1243
Died on July 16, 1309
In 1286 James Stewart was chosen as one of six Regents of Scotland. During the Wars of Scottish Independence, he at first submitted to King Edward. However, he joined Sir William Wallace, after whose defeat he joined Robert the Bruce. James Stewart's son Walter married Robert the Bruce's daughter Princess Marjorie. See Generation Nine below.
James married to Egidia de Burgh, daughter of Walter de Burgh, Earl of Ulster and Avelina FitzJohn who was a daughter of Isabel Bigod and grand daughter of Hugh Bigod, Magna Charta Surety.
For Egidia's descent please click on Egidia de Burgh.
James and Egidia had the following children:
Andrew Stewart
Walter Stewart
Sir John Stewart, killed at Dundalk, 1318
Sir James Stewart of Durrisdeer
Egidia Stewart

Generation Nine
Walter Stewart, 6th High Steward of Scotland
Born in 1293
Died on April 9, 1326

Walter married first to Alice Erskin, and they had a daughter:

Walter married second in 1315 to Princess Marjorie Bruce, daughter of Robert the Bruce. Princess Marjory Bruce died on March 2, 1316, the same day her son was born: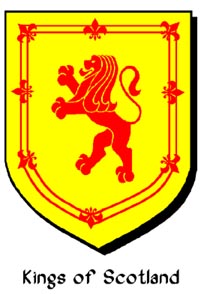 Robert Stuart, King Robert II of Scotland, born March 2, 1316
Walter married third to Isabel Graham, and they had the following children:
Sir John Stuart of Ralston
Egidia Stuart
Sir Andrew Stuart

Generation Ten
Robert II Stuart, King of Scotland 1370/71 - 1390
For the continuation of this line, click on Robert II Stuart.
Click to return to the top of this page.
Click to return to the main Magna Charta page.
Please visit the Sewell Genealogy Site Map for other pages.