The Countess of Dunbar
"Black Agnes" Randolph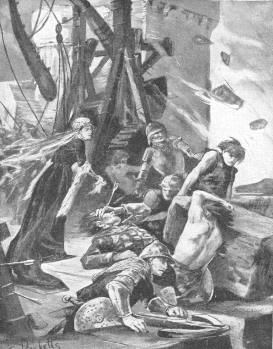 Two generations of heroic Scotswomen supported and suffered in the Bruce cause, nearly all of them as nameless as their sons and husbands who did likewise. They could all take heart from the example of Agnes Randolph, Countess of Dunbar. Mistress of the strategic Dunbar Castle, controlling the coastal route to Edinburgh, she took charge in 1337 when the Earl of Salisbury besieged it.
In Scotland, Agnes Randolph is a national hero. Some sources say she was known as Black Agnes because of her black hair, eyes and clothing which contrasted sharply with her pale complexion. Other sources claim the English attempted to discredit her as a witch and called her "Black Agnes." Either way, the name stuck.
The English had a battering ram, 'the Sow', covered by a wooden roof. Agnes had a large stone dropped through the roof, squashing the men beneath. When her brother John Randolph, 3rd Earl of Moray, was brought in front of the castle and threatened with death, she scorned them, saying if he died, she would then be the 4th Earl of Moray as well as the Countess of Dunbar.
On June 10, 1338, the English gave up and raised the seige.
David Ross, Scotland: History of a Nation, pg. 101(Edinburgh, 2000)
(Thanks to John P. Stewart)
The Book of History, Vol. IX, pg. 3919 (London, 1914)
(Inherited from my grandfather, James H. Lumley)
Please click to see The Family of Black Agnes Randolph.
Click for our Yahoo! Index.
Click to Contact Robert Sewell