Beaumont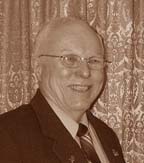 This page was set up by Robert Sewell in December, 2006 to show the ancient Beaumont Family. Robert Sewell graduated from McMaster University (Hamilton, Ontario, Canada) in 1967 with a B.Sc. degree in chemistry. After a year of studies at the University of Toronto's College of Education, he taught high school science in Collingwood, Ontario for a year and then taught chemistry, physics and general science in Hamilton, Ontario for twenty-nine years. Robert Sewell retired from teaching in June 1998.
Click to Contact Robert Sewell
Please visit the Sewell Genealogy Site Map for other pages in this series.
The information presented here has been taken primarily from:
George E. Cokayne: The Complete Peerage of England, Scotland, Ireland, Great Britain and the United Kingdom, Sutton Publishing, August 24, 2000, ISBN: 0904387828, Volume VII, pages 519 - 537. (Thanks to John Rees.)
With additional data from:
Frederick L. Weis and Walter L. Sheppard: Ancestral Roots, 7th Edition, Baltimore, 1999, Lines 50-25 & 53-25

Generation One
Thorold, Seigneur of Pont-Audemer
Circa 1000 A.D.
Thorold was said to be a son of "Torf" and his wife "Wewa" or "Awelina" who was said to be a sister of Gunnor of Crêpon, second wife of Richard (I) "the Fearless", 3rd Duke of Normandy; but this cannot be proved conclusively. Hence, Thorold is regarded as the earliest authenticated ancestor.
Regardless of his forebears, Thorold had a son:

Generation Two
Humphrey de Vieilles, Seigneur of Vieilles and Pont-Audemer
Died circa 1044
Humphrey was a follower of Robert (I) "the Devil", 6th Duke of Normandy. He founded at Préaux, near Pont-Audemer, two monasteries: St. Pierre for monks about 1035, and St. Leger for nuns abut 1040. Humphrey is said to have become a monk at St. Pierre-de-Préaux where he died and was buried.
Humphrey de Vielles married Aubreye or Aubrée, perhaps Aubrée de la Haie and they had the following children:
Roger de Beaumont
Robert
William
Dunelme

Generation Three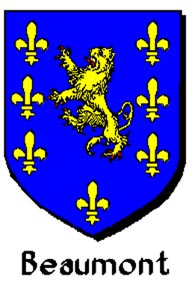 Roger de Beaumont, Seigneur of Beaumont and Pont-Audemer
Roger remained faithful to the young Duke William during the disturbances of the earlier part of his reign. He furnished 60 ships for the invasion of England in 1066, but he remained in Normandy as the principal advisor to Duke William's wife Mathilda who was left in charge of Normandy while William was busy at the Battle of Hastings and so on.
About 1088, Roger founded the collegiate church of the Holy Trinity at Beaumont-le-Roger for canons of St. Frideswide of Oxford. He was also a benefactor of St. Pierre-de-Préaux and of St. Wandrille. Shortly after 1090, Roger became a monk at the Abbey of Préaux. He died there some years later on December 3, but the year is unknown.
Roger married Adeline, daughter of Waleran, Count of Meulan. Adeline's brother was Hugh, Count of Meulan who d.s.p. (died without issue) thereby making Adeline's son Robert Count of Meulan in 1081.
Roger de Beaumont and Adeline had the following children:
Robert de Beaumont
Henry, Earl of Warwick
Aubreye, Abbes of Préaux

Generation Four
Robert de Beaumont, Count of Meulan
Although Robert became the 1st Earl of Leicester, he was never styled thus. He was already the Count of Meulan in the French Vexin; and not expected that a person who was a great Count would change his style for a new dignity. He was also Seigneur of Beaumont, Pont-Audemer, Brionne and Vatteville in Normandy. See Complete Peerage, Vol. VII, pg. 525 for details.
Born circa 1046
Died on June 5, 1118
Robert was very young, probably about 20, when he accompanied Duke William to England where he was most certainly present at the Battle of Hastings. In 1081, he inherited from his mother's family the comté of Meulan and was thereafter referred to as "Count of Meulan". Robert was one of the chief lay ministers of William (II) Rufus, King of England from 1087 to 1100, with whom he sided against Robert Curthose, Duke of Normandy. On the death of William Rufus he became one of the chief advisors of King Henry (I) Beauclerc.
In 1110 Robert was beseiged at Meulan by King Louis (VI), aka "Louis the Fat", King of France, who took the castle by storm. In the following year, he retaliated by plundering Paris. He destroyed the bridges over the Seine, thus preventing Louis the Fat from coming to the relief of the city while enabling himself to make a safe retreat with his booty.
Robert de Beaumont married in 1096 to Isabel de Crépi of Vermandois, daughter of Hugh "the Great" de Crépi, Count of Vermandois and his wife Adelaide de Vermandois. Robert and Isabel had the following children:
Waleran de Beaumont (1104 - 1166, twin brother of Robert de Beaumont), Count of Meulan and Earl of Worcester who married circa 1141 to Agnes de Montfort, a daughter of Amauri de Montfort, Count of Évreux. They had a son:

Sir Robert de Beaumont (died in 1207), Count of Meulan.

Robert de Beaumont
Hugh de Beaumont, said to have been created Earl of Bedford.
Adeline de Beaumont, who married Hugh IV, Seigneur of Montfort-sur-Risle.
Aubrey de Beaumont, who married Hugh II, Seigneur of Chateauneuf-en-Thimerais.
Maud de Beaumont, who married William Louvel, Seigneur of Ivri and Brevel.
Isabel (or Elizabeth) de Beaumont who first "had an affair" with King Henry I of England and later married Gilbert FitzGilbert de Clare.
Isabel de Crépi of Vermandois married secondly circa 1118 to William de Warenne, 2nd Earl of Warren & Surrey.


Generation Five
Robert de Beaumont, 2nd Earl of Leicester
Born circa 1104
Died on April 5, 1168

Robert and his twin brother Waleran were brought up in the court of King Henry (I) Beauclerc on account of the King's gratitude to their father. Robert and Waleran accompanied Henry when he interviewed Pope Calixtus at Gisors in November 1119, where they astonished the Cardinals by their learning.

Robert supported King Stephen during his tumultuous reign but appears to have made a truce with the Angevin party after the defeat of Stephen at the Battle of Lincoln on February 2, 1141. He eventually supported King Henry (II) Curtmantle and rose in that King's favour. He took the part of the King during the struggle with Thomas à Becket.

Robert married Amice de Montfort sometime after the sinking of the White Ship on November 25, 1120 when Richard, a natural son of King Henry (I) Beauclerc to whom Amice had been contracted, was drowned. Richard and Amice had the following children:
Robert de Beaumont
Isabel de Beaumont who married firstly Simon de St. Liz (II), Earl of Huntington and secondly Gervase Paynel
Hawise de Beaumont who married William Fitz Robert, Earl of Gloucester
Margaret de Beaumont who married Ralph de Tosny

Generation Six
Robert de Beaumont, 3rd Earl of Leicester
Died in 1190 at Durazzo, Greece (present day Durrës in Albania on the Adriatic Sea) on his return journey from Jerusalem.
Unlike his forebears who had enhanced their fortunes by adherance to the Crown, Robert followed a rebellious course. He supported Henry the Young King when he revolted against his father, King Henry (II) Curtmantle in 1173. He seems to have been in and out of trouble for the next ten or fifteen years; but by September 3, 1189 he was present at the Coronation of King Richard (I) where he carried one of the Swords of State. In December 1189 he set out on a Crusade to Jerusalem and he died on the way back.
Robert married Pernel (Petronilla) de Grandmesnil, and they had the following children:
William de Bréteuil who died before his father.
Robert Fitz Pernel, eldest surviving son and heir. He was known as Robert de Bréteuil during his father's lifetime and later as Robert Fitz Pernel. He d.s.p. (died without issue)
Roger de Beaumont who was Chancellor of William King of Scots and Bishop of St. Andrews.
Amice de Beaumont who married as his second wife Simon de Montfort
Margaret de Beaumont who married Saher de Quincy.
Hawise de Beaumont who became a nun at Nuneaton
Pernel de Beaumont

Please click to return to the top of this page.
For the continuation of this line, click on Saher de Quincy.
Please visit the Sewell Genealogy Site Map for other pages in this series.