Poem from Lewis Sewall
The following poem was written by Lewis Sewall who moved from Maryland to Alabama in 1801. Lewis was a merchant who also dealt in real estate. He was a great X3 grandson of Richard Sewall and his wife Mary Dugdale. This information is courtesy of Lewis Sewall's great X3 grandson, Murphy A. Sewall of Connecticut.

This poem appears in the Journal of Charles Randolph Montgomery Sewell where it is dated 1820 and it is indicated that "Blakeley" was likely Blakely, Massachusetts. The same poem appears in E.E. Salisbury: Family Memorials (1885), pages 165 - 166 where it is indicated that "Blakely" was Blakely, Alabama and that "Stephen Sewall" was likely Stephen Sewall of Winthrop, Maine (1794 - 1880) who was a greatX2 grandson of John Sewall and Hannah Fessenden.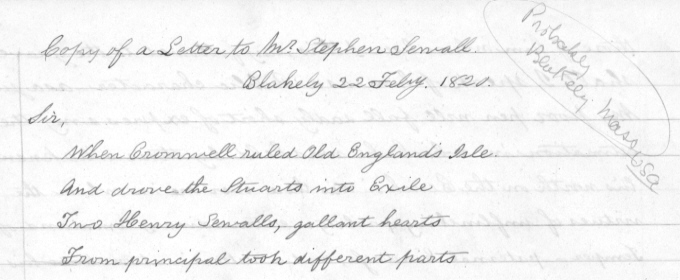 from the Journal of Charles Randolph Montgomery Sewell
---
The entire poem reads as follows:


Copy of Letter to Mr. Stephen Sewall
Blakely 22 Feby. 1820

Sir,
When Cromwell ruled Old England's Isle
And drove the Stuarts into Exile
Two Henry Sewalls, gallant hearts
From principal took different parts
Your Ancestor as Poets sing
Join'd Oliver, and mine the King.
But when the second Charles returned
And Cromwell's corpse was hang'd or burn'd
Your Ancestor for Boston steered
And mine for Maryland I've heard —

Our Family Records say 'tis true
And hence these lines I write to you.
Three Volant Bees, our Arms display
As English Heralds Records say
And for the Crest a Leopard's head
Is placed altho' the Beast is dead.
You now can tell if bad or good
If you and I are of one blood

Yours respectfully
(signed) Lewis Sewall
---
Click to return to the Sewells of Maryland or Henry Sewall.
Please visit the Sewell Genealogy Site Map for other pages in this series.