Henrietta's Letter
In December 1827, Henrietta Eliza Sewell wrote a letter to her brother Henry Doyle Sewell who was studying at Oxford. To save money on both paper and postage, Henrietta wrote the entire letter on one large sheet of paper using a technique referred to as "cross writing" whereby a page was written on, rotated through 90°, and then written on again! While it is good to learn that our well known Sewell frugality is a trait inherited from our forebears, it should be noted that this was a common way of writing letters at the time.
Here is what the first few lines of the letter look like: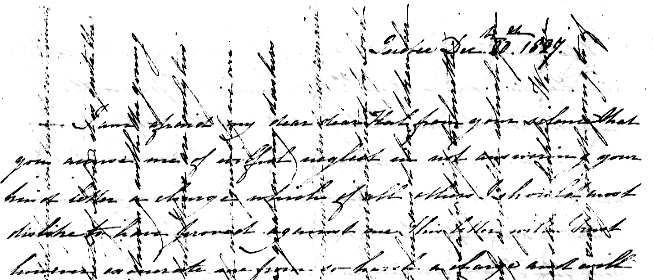 This portion of the letter (the horizontal part) reads:
Quebec Decbr. 20th, 1827

I am afraid my dear dear Hank from your silence that
you accuse me of wilfull neglect in not answering your
kind letter a charge which of all others I should most
dislike to have proved against me. This letter will I trust
however exonrate me from so harsh a charge and will . . .
To read a transcription of the entire letter, please click on Henrietta's Cross Letter.

For more about Henrietta, please click on Henrietta's Biography.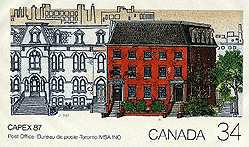 The original letter is in the collection of Toronto's First Post Office, a museum/historic site located in beautiful downtown Toronto at 260 Adelaide Street East, just a block and a half east of Jarvis Street. Toronto's First Post Office is housed in what was the only post office in the City of Toronto between 1834 and 1839 and is administered by The Town of York Historical Society. In 1987, the Canada Post Corporation released this commemorative stamp celebrating Toronto's First Post Office. To visit the Web Site of Toronto's First Post Office, just click on the stamp.
To visit other pages in this series, click on Sewell Genealogy Site Map.
This page posted by Robert Sewell in June 2006
Many thanks to Louise Bridge, Curator of Toronto's First Post Office.