The Life
of
Henrietta Sewell-Lundy
---
This biography is written by Deborah Carroll in January 2002 to accompany the cross written letter by Henrietta Sewell to her brother Henry Doyle Sewell in December 1827.
---
The author of this cross written letter, Henrietta Eliza Sewell is my great great grandmother. She was 19 years of age when she wrote it and unmarried. She was born on the 14th of October 1808 at Quebec Lower Canada and grew up with eight brothers and four sisters at 87 St Louis Street, Quebec City. She and her sisters probably received their education from private tutors. In 1826 Henrietta's younger sister Charlotte had died at the age of 12 and Jonathan, her father, had taken some members of family including Henrietta to England and the Continent. They had returned to Canada in the spring of 1827 and had probably visited her brothers Henry at Oxford and John in Ireland.
As can be surmised from this letter Henrietta was an articulate and affectionate young woman who has entered Quebec society and is naturally interested in the current social events and the young men she meets.
Henrietta's ancestry is an interesting one, several were immigrants from England to America in the 16th and 17th centuries. In fact it is said that her ancestor Mary Chilton, a passenger on the Mayflower in 1620, was the first European woman to set foot in the New World. Some of Henrietta's ancestors were to become prominent citizens in early America and after the American Revolution her grandfather William Smith who was Chief Justice of the Province of New York, became Chief Justice of Lower Canada. Her father Jonathan Sewell followed in his footsteps.
It was in this rarefied Quebec society that Henrietta met her future husband Reverend Francis James Lundy D C L. A well educated Yorkshireman with a very fine singing voice and a love of music, as did Henrietta. In May of 1837 at the age of 29 Henrietta began her married life as the wife of the founder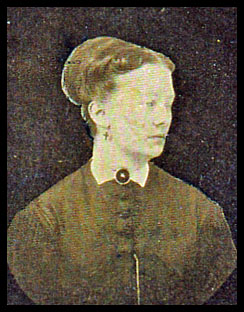 of the Classical School at Quebec and soon to be ordained priest of the Church of England. Her husband, who was known as Frank, later was licensed to the "cure of the souls" in the parish of St Joseph at Pointe Levis Lower Canada and expanded his missions to New Liverpool where he built a church, Potters Cove and Belaire. In March 1839 their first child, Agnes Henrietta was born to their great delight. The birth of Charlotte soon followed in May of 1840, then Lawrence in January of 1842. In November of '42 the family moved to Montreal where Frank became the first vice principal of McGill College and Professor of Classical Literature. In October 1843 Louisa de Quincy was born at Pointe Levis followed by Alice in May of 1844. During their time at Montreal, Frank also ministered at St Martin's Church Isle of Montreal. After two years at McGill the family moved to Niagara-on-the-Lake where Frank was assistant to Reverend Creen at St Mark's Church and founded parishes at McNabb and Queenston and the Niagara Classical School. It was here that May was probably born in 1846. In November 1847 the last and seventh child Mary was born and soon after died. Sadly Henrietta also died of puerperal fever soon after Mary. A loss that changed the lives of this loving family in ways unimagined.
An obituary written at the time of Henrietta's death and printed in the Niagara Mail reflects the high regard she attained from those her knew her. "A short residendence of fifteen months in this town was sufficient to establish for this lady the highest respect of all with whom she became acquainted; her mildness of manner and courteous deportment gaining at once their goodwill, while her zealous co-operation in every charitable pursuit, secured their esteem and regard."
Thus ended the short life of 39 years of my great great grandmother, a woman who I would have very much liked to have known. I am descended from her fourth child Louisa de Quincy Lundy-Carre.
Enjoy her letter. Deborah Carroll.
---
Henrietta's memorials at St. Mark's in Niagara can be viewed by clicking on Find A Grave.
Please click to return to Henrietta's Letter Page or to the transcription of the Cross Letter.
Return to Henrietta Eliza Sewell on the Sewell Family Page.
---