The Furse Family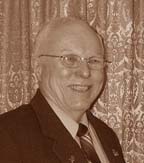 This page was set up by Robert Sewell in June 2006 to show the family of his maternal grandmother, Margueretta Furse. Robert Sewell graduated from McMaster University (Hamilton, Ontario, Canada) in 1967 with a B.Sc. degree in chemistry. After a year of studies at the University of Toronto's College of Education, he taught high school science in Collingwood, Ontario for a year and then taught chemistry, physics and general science in Hamilton, Ontario for twenty-nine years. Robert Sewell retired from teaching in June 1998.
Click to contact Robert Sewell
---

For other pages in this series, please click on Site Map. The other pages, however, relate to the Sewell family. I have been unable to find many record of my mother's family, and the information here is from the following sources:
Click on the old camera for Furse Family Photos
Thanks to Laurel McSherry
It would be much appreciated if anyone with additional information would contact me as above.
Robert Sewell
June 2006
Armorial Bearings of Furse

Furse: co. Devon, temp. Richard I. Gules a chevron embattled and counter embattled between six halberts in pairs saltaireways or. Crest — A tower proper. Motto — Ne desit virtus.

Furse: Crokenwell, or Crediton, co. Devon; Thomas Furse, of that place. Visitation 1620. Descended From Thomas Furse and Alice, his wife, temp. Edward III. Same arms as above.



. . . Sir Bernard Burke: The General Armory, London, 1884
Origin of the Furse Name
Furse is a topographical name from Devon for someone who lived on a piece of land that was thickly grown with gorse, a small prickly shrub with yellow flowers.
The name comes from Anglo Saxon fyrse for gorse.
Generation One
William Furse
Born circa 1803 at Marwood, Devon.
Died before April 1895 at Barnstaple, Devon, Æt 91
William is shown on the census of 1851, 1861 and 1871 as a gardener at Upcott House in Barnstaple, which was owned by the magistrate Thomas W. Harding. William Furse married Elizabeth Hill (born circa 1806, died 1885, Æt 79) Elizabeth is described on the census of 1861 as a charwoman. The 1881 census shows William, his wife Elizabeth and their grandson William residing in the Underwinnar Almshouses at Barnstaple. The 1891 census shows William as a widower, living at the Almshouse with his unmarried daughter Ann.
William and Elizabeth had two daughters:
Ann Furse born circa 1835 at Pilton, Devon. Ann was a servant; the 1871 census shows her residing at Vicarage House, Buckland, Monachorum, Devon where she was a housemaid working for the Vicar of the Parish, Richard Hayne and his wife. Ann was unmarried, and the 1891 census shows her as an inmate of the Underwinnar Almshouses, Barnstaple where she lived with her father.
Elizabeth Furse, mentioned next.

Generation Two
Elizabeth Furse
Born circa 1842 at Pilton, Devon.
Died before April 1909 at Barnstaple, Devon, Æt 67
The census of 1861 shows Elizabeth residing at #41 Union Terrace where she was a house servant. Elizabeth was unmarried, and may have been associated with William Allen shown on the 1861 census as "aged 28, single, Painter/ Glazier, born in Barnstaple." He was living on High Street with his parents, Theophilus Allen (age 69) and Mary Allen (age 68).
Elizabeth Furse had a son:
William Theophilus Allen Furse, mentioned next.

Generation Three
William Theophilus Allen Furse, known as "William Furse"
Born June 26, 1862 at Ashford, Devon
Died 1940 at Toronto, Canada; interred at Prospect Cemetery, Section 11, Grave 190.
William Furse told Robert George Sewell that he was of German descent, but his marriage record clearly shows that he was born in Devon. William indicated on documents that his grandparents William and Elizabeth were his parents, and they certainly acted as such; they brought him up. He is remembered as being grouchy. William was a painter, woodworker and later a foreman at the Dodge Manufacturing Company of Toronto which made, among other things, pulleys for block and tackle equipment.
William married on July 6, 1887 in Toronto to Catharine "Kate" O'Connor. The witnesses were Herman Kallmeyer and Sarah Ann Wilson; and the minister was H. P. Hobson. Herman Kallmeyer and Sarah Ann Wilson were married later the same year on November 30, 1887 in Toronto. The Kallmeyers and Furses must have been close friends.
Catherine O'Connor (also Connors) was said to have been born on May 21, 1863 or 1865 in Montreal, a daughter of Daniel and Margaret O'Connor (also Conners or Connors) of Montreal. Catherine died in Toronto, Ontario on July 16, 1916 æt. 51; thereby suggesting that the date of birth was 1865. Catherine was interred in the Furse Family plot (Section 11, Grave 190) in Prospect Cemetery, Toronto, Ontario.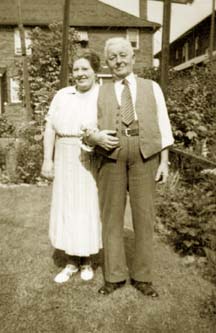 The Furse family resided in "West Toronto", also known as "The Junction." This was a town built around the junction of three railways: the Grand Trunk Railway, the Credit Valley Railway, and the Ontario and Quebec Railway. It is in the area of Keele and Dundas Streets in Toronto. The Furse family was residing at:
9 Ostler Street in 1914 (marriage of William's daughter Margueretta)
201 Annette Street in 1916 (death of William's first wife Catherine)
3 Ostler Street in 1920 (William's second marriage to Emma Jane Westlake)
65 Laughton Avenue in 1936 (death of William's second wife Emma Jane)
William, an adherent of the Church of England, forbade his wife to continue with the Catholic Religion and refused to allow the priest entrance to the house. He and his daughter Margueretta are shown in the photograph (circa 1937) in the backyard of the Lumley residence at 105 Wineva Avenue

William and Catherine had the following children:
Herbert Walter William Furse
John Furse
Margueretta Furse
Irene Furse
William Furse married secondly on January 9, 1920 to Emma Jane Westlake, a spinster from Cornwall, England reputed by family tradition to have been an "old girl friend who came from Devon". Emma Jane gave her age as 56 years as of January 9, 1920. Emma Jane Furse died on Sunday, September 13, 1936 æt 74 and is interred in the Furse Family plot (Section 11, Grave 190) in Prospect Cemetery, Toronto, Ontario.

---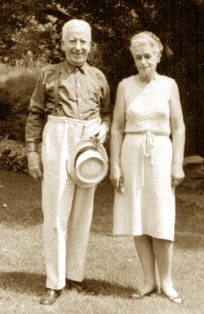 Generation Four
Herbert Walter William Furse
Born on February 3, 1888 at Toronto, Ontario.
Died February 1977

Walter married Mary Elizabeth May who was born on March 15, 1891. Mary Elizabeth was always referred to as "Aunt Lottie." The Furse Family moved to St. Johnsbury, Vermont. Aunt Lottie died on March 1, 1981 in St. Johnsbury. Uncle Walter and Aunt Lottie are shown in the photo to the right circa 1965.

Walter and Lottie had the following sons:
Herbert Lawrence Furse
Walter Bruce Furse, died June 6, 1917 age 8 months and 28 days. Walter suffered from whooping cough for 6 weeks before his death, the immediate cause of which was reported as "dilation of the heart." He is interred in the Furse Family plot (Section 11, Grave 190) in Prospect Cemetery, Toronto, Ontario.
Rodger Keith Furse

John "Buzz" Furse
Born on December 30, 1890 (See 1901 Census of Canada; see Automated Genealogy or Archives Canada)
Died in 1911
John married Nancy Horner, a sister of hockey player Reginald "Red" Horner. John contracted scarlett fever, and before he had recovered, he came down with diptheria as well. He died in 1911 before the birth of his son. Nancy died a few days after the birth of their son, apparently due to complications.
John and Nancy's son was:

Margueretta Furse
Born, according to the 1901 census, on September 30, 1892. Note: Margueretta's gravestone indicates that she was born on November 8, 1891. However, her name is spelled incorrectly as "Margaretta" on the gravestone, so perhaps the date of birth is incorrect as well.
Died on July 16, 1958
Margueretta, is remembered as "Retta." Prior to marrying James H. Lumley, Retta worked in the office of the Dodge Manufacturing Company of Toronto where her father was a foreman. This page was written by their grandson, Robert Sewell. In summary, the line goes as follows. Please click on the links for details:
Margueretta Furse (1892 - 1958) married James H. Lumley. Their daughter:
Irene Furse
Irene Furse is remembered as "Rheen". Irene died on Thursday, March 6, 1924, æt. 28, after the birth of her daughter Shirley. Irene is interred in the Furse Family plot (Section 11, Grave 190) in Prospect Cemetery, Toronto, Ontario.
Irene married William Richard Thomson (1896 - 1945). After Irene's untimely demise, William Richard Thomson remarried to Gertrude Camplin (died circa 1960's)
William Richard Thomson was a direct descendant of David Thomson and Mary Glendenning who were original settlers in Scarborough Township circa 1796. For more information on the Thomson Family, please click on Thomson Genealogy.
Irene and William had the following children:
Lionel Thomson
Shirley Thomson
Lionel and Shirley were brought up by their grandmother Eva Thomson (née Barker) and Aunt Alice "Bub" Thomson who worked at the Toronto City Hall as a Special Nurse. Alice travelled around the city helping young mothers.
---

Generation Five
Herbert Lawrence Furse
Born December 1, 1914
Died January 30, 1999

Herbert graduated from Harvard, served on minesweepers in the Pacific in WWII, rose to become assistant vice president of Youngstown Sheet & Tube Steel Company, and took early retirement to enjoy a second career as a antiquarian book dealer.
Herbert married Mary Louise and they had the following children:
Herbert Lawrence Furse, Jr.
William James Furse
Raymond Walter Furse
Mary Kay Furse
Charlotte Rachael Furse
Louisa May Furse
Daniel Neely Furse, born on February 13, 1960 in Pittsburgh, Pennsylvania and died on February 13, 2004 in Glenview, Illinois. Daniel was survived by his mother, wife, children, siblings, many nieces and nephews and a "menagerie of pets." (from his obituary in the "Journals & Topics" Newspaper, Des Plaines, Illinois, dated Feb. 27, 2004)

Rodger Keith Furse
Born on May 31, 1922
Died on July 19, 2003
Keith graduated from Yale and then went on to get an engineering degree. Keith and his family lived in Fonthill, Ontario circa 1970. They appear to have moved away from Fonthill before 1976.
He served in the RCAF and then worked for a number of companies, including Allis Chalmers. He and his partners purchased the nuclear components division of Allis Chalmers and became quite wealthy.
Keith married first Catherine, who died of Alzheimer's. They adopted:
Walter Furse
Skipper Furse
Catherine Furse
Keith married second to Priscilla.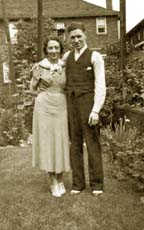 John Sherman "Jack" Furse
Born December 12, 1911
Died May 12, 1973
Jack was always referred to as a brother of Margueretta "Retta" Furse / Lumley, but he was also a nephew; a son of Margueretta's brother John. After the death of his parents, Jack was adopted and brought up by his grandfather William Theopolis Furse and his second wife. Hence, Jack was "officially" a brother of Margueretta Furse; William Theopolis Furse was legally the father of both Jack and Margueretta.
Jack graduated from University of Toronto and was President of Fairmont Railway Motors of Canada.
Jack married Beatrice ("Bea") on May 25, 1936 and they are shown in the photograph circa 1937. Beatrice died on March 9, 1983. We lost contact with this Furse Family in the late 1950's; but Laurel Furse saw our web page in January 2005 and contacted us.
Jack and Bea had the following children:
Sandra Edaire Furse, born September 26, 1941; died September 20, 1945 of peritonitis poisoning. Sandra was interred at Park Lawn Cemetery, Toronto. (Section S, Lot W806)
John Richard "Rick" Furse. Rick and Linda had the following children:

John David Furse who died at age 3 months due to "crib death" and is interred at Park Lawn Cemetery, Toronto.
Erik Richard Furse

Laurel Furse
Lionel Thomson
Born on December 16, 1916
Died in the mid 1990's
Lionel married Mary Helen McGarry (born August 15, 1910). Helen's Family lived near Perth, Ontario; and they moved into the Town of Perth after their father died in 1929. Helen has two sisters: Elizabeth Eunice McGarry and Catharine Dorothy Lord whose husband died circa 1975.
Lionel and Helen had the following daughter:
Patricia Ann Thomson, born January 8, 1945

Shirley Thomson
Born March 1924
Shirley married John Peter Hill. They had a farm in Haliburton with frontage on Lake Kashagawigamog which they operated as a summer resort under the name of Mistikoska Lodge. Shirley's brother Lionel had a log cabin, believed to be the original farm house, on the property. Shirley and John converted Mistikoska Lodge into a fine home and retired there.
Shirley and John had the following children:
Chris
Peter who married and had two children
Alison
---
Please see the Sewell Genealogy Site Map for the descent of the Sewell Family.