The Family of Mary Chilton
This page shows the Family of Mary Chilton
who according to tradition was
"the first lady to step ashore"
from the Mayflower in December 1620.

This page was researched by cousins
Estelle Hughes and Robert Sewell.

Robert Sewell

Click to Contact Robert Sewell

Estelle Hughes
Please visit the Sewell Genealogy Site Map for other pages in this series.
---
Sources
Sources used for this page include the following:
William Payne, Letter, February 7, 1818.
The Book of History (18 Volumes), London, 1914
Sir Hector Livingston Duff, The Sewells in the New World, Exeter, 1924.
John A. Garraty: The American Nation, New York, 1966.
Sherman et. al, Mayflower Families, Volume Fifteen, 1997
Douglas Richardson, Plantagenet Ancestry, Baltimore, 2004 (Click HERE to order)
Sewell V. Sample, Letters
John Rees, Letters
Dr. Mike Haywood, Marine Art, 2005
Caleb H. Johnson, Mayflower History, 2006
---
Links
Thanks to Mary and her teacher Mrs. Lowe for this link . . . lots of information here for school projects:
Moving Across the Atlantic on The Mayflower
http://www.upack.com/moving-across-the-atlantic-on-the-mayflower
---
Thanks to Charlotte Adams for the following link . . . a great scource for school projects:
The History and People of Plymouth Colony
https://www.truepeoplesearch.com/find/content-the-history-and-people-of-plymouth-colony
---
The Pilgrims
A strange group of religious dissenters called "Pilgrims" had fled England circa 1608 to escape persecution and had settled in Leyden, Holland. A decade later, distressed by the fact that their children were losing contact with their English traditions and unable to earn a decent living in Holland, they had decided to seek a place to live and worship as they pleased in the emptiness of the New World. They approached Sir Edwin Sandys seeking permission to establish a settlement within the London Company's jurisdiction; and Sandys, while not sympathetic to their religious views, appreciated their inherent worth and saw to it that their wish was granted. The Pilgrims boarded the Speedwell and sailed from Delfthaven, Holland. They joined with friends who had embarked on the Mayflower at Southhampton and sailed for the New World on August 6, 1620. However, the Speedwell leaked badly and both ships returned to Plymouth. Eventually, the Speedwell was sold and on September 6, l620, the group of about a hundred set out on the Mayflower.
Had the Mayflower reached its intended destination in Virginia, the Pilgrims might well have been soon forgotten. However, they had been carried far out of their way, and the ship touched America on the desolate northern end of Cape Cod Bay. Unwilling to remain longer at the mercy of storm-tossed December seas, the settlers decided to remain. Since they were outside the jurisdiction of the London Company, the group claimed to be free of all governmental control. Therefore, before going ashore, the Pilgrims drew up the Mayflower Compact. "We whose names are underwritten," the Compact ran, "do by these Presents, solemnly and mutually in the presence of God and one another covenant and combine ourselves into a civil Body Politick . . . and by Virtue hereof do enact . . . such just and equal Laws . . . as shall be thought most meet and convenient for the general Good of the Colony."
In this simple manner, ordinary people created a government. The Mayflower Compact reflected both the confidence of the Pilgrims in one another and the impact of the immense emptiness of the New World on generations of pioneers. Alone in the wilderness, people recognised their interdependence and came to appreciate the virtues of social and political organisations. This realisation had much to do with the development of American government and democracy.

---

Generation One
Richard Chilton who resided in St. Paul's Parish, Canterbury.
Died 1549
Richard Chilton married Isabell, and they had a son:


Generation Two
Lyonell Chilton, a yeoman of considerable property resided in St. Paul's Parish, Canterbury.
Died circa 1582/83. His will was dated September 7, 1582 and proved February 13, 1582/83.
Lyonell married twice, but the name of his first wife has been lost. Lyonell and his first wife had the following children:
John Chilton
James Chilton
Alice Chilton
Anne Chilton
Margaret Chilton
Lyonell married secondly to Isabell Furner who, by a previous marriage to Francis Furner, had two children Thomas Furner and Susanna Furner.


Generation Three
James Chilton who signed the Mayflower Compact.
Born before 1556 (Št. 63 in 1619)
Died on December 18, 1620 aboard the Mayflower in Cape Cod Harbour.

The name of James Chilton's wife is unknown. It has been suggested that she was Susanna Furner, daughter of his step-mother and her first husband Francis Furner. However, the identity of James' wife remains in doubt as Susanna Furner's baptism record indicates she was far too young (only 12) to be married and having children in 1586. To further confuse the issue, James is said to have married secondly to the widow Isabell Furner, who was not the mother of his children. Note that "Isabell Furner" was also the name of James' stepmother.

However, it is known that James Chilton's wife was one of a group excommunicated in 1609. Apparently, they buried a young child without following the proper ceremonies prescribed by the Church of England. Religious dissenters opposed such ceremonies, since they were not Biblically-based. The excommunication record from St. Peter's, Sandwich, reads:

"I the parson there doe present Thomas Bartlet the wife of James Chilton Danyell Hooke and Mosses Flecher all of our said parish for pryvatly burying a childe of Andrewe Sharpe of St. Maries parish who is strongly suspected not to dye an ordinary death the which they secretly conveyed to the earth without anie notice to given to me or my clarke of anie companie of neighboures but such only as semed accessary thereunto, this they did the 25 or 24 of Aprill last past, the lawfulness of which acte some of them seem now since to dissent by calling into question the lawfulnesse of the kinges constitutions in this and other behalfes, affirming these thing to be popishly cerimonious and of no other force; for the truth of all which the premisses with much more when it shall be further erquired I the now resident incumbent there have hereunto subscribed my name this 8 May 1609."

Governor Bradford wrote in 1650:

"James Chilton and his wife also died in the first infection, but their daughter Mary is still living and hath nine children; and one daughter is married and hath a child."
---
The voyage to the New World wasn't all smooth sailing.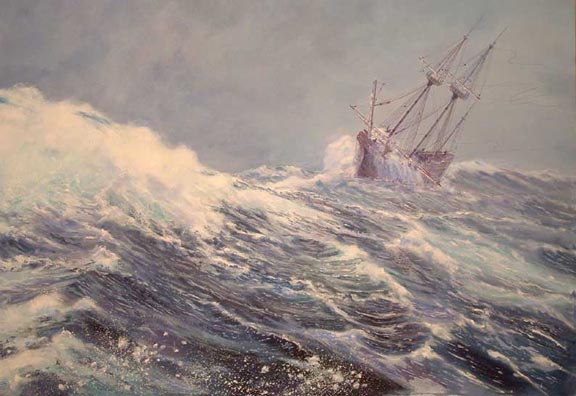 Painting courtesy of Dr. Mike Haywood
for details, please visit:
Marine Art from Mike Haywood
---
James died on December 18, 1620, scarcely a month after signing the Mayflower Compact. His wife shortly followed him, dying during the First Sickness at Plymouth sometime after January 21, 1620/1.

James Chilton had the following children by his first wife:
Isabella Chilton baptized St. Paul's Parish, Canterbury, January 15, 1586/7.
Jane Chilton baptized St. Paul's Parish, Canterbury, June 8, 1589.
Mary Chilton born Canterbury; buried St. Martin's Parish November 23, 1593.
Joel Chilton born Canterbury; buried St. Martin's Parish November 2, 1593.
Elizabeth Chilton baptized St. Martin's Parish, Canterbury, July 14, 1594.
James Chilton baptized St. Martin's Parish, Canterbury, August 22, 1596; died young.
Ingle Chilton baptized St. Paul's Parish, Canterbury, 29 April 29, 1599.
Christian Chilton (dau.) baptized St. Peter's Parish, Sandwich, July 26, 1601.
James Chilton baptized St. Peter's Parish, Sandwich, September 11, 1603.
Mary Chilton

Generation Four
Mary Chilton
Baptized at St. Peter's Parish, Sandwich, May 31, 1607.
Died at Boston before May 1, 1679.

---
Arriving in the New World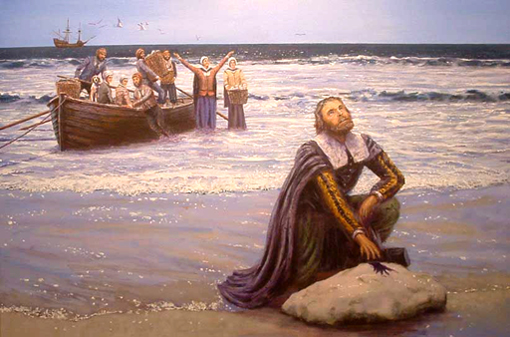 According to tradition Mary Chilton was the first lady to step ashore. Presumably that is Mary standing in the water holding a basket. The ladies came ashore to do the laundry; so it is probably a laundry basket and not a picnic lunch.

Painting courtesy of Dr. Mike Haywood
for details, please visit:
Marine Art from Mike Haywood
---

Mary's father died on December 18, 1620 and her mother died shortly after January 21, 1620/1. At age thirteen Mary Chilton was thus left an orphan at Plymouth. No record reveals with whom she spent the next few years but perhaps for at least a part of the time she was a member of either the Alden or the Standish household.

Mary married at Plymouth sometime between July 1623 and May 22, 1627 to John Winslow, who had arrived at Plymouth in 1621 on the Fortune. John was born at Droitwich, Worcestershire on April 16, 1597; and died at Boston before May 21, 1674. John was a son of Edward and Magdalen (Ollyver) Winslow, and brother of Pilgrim Edward Winslow.
---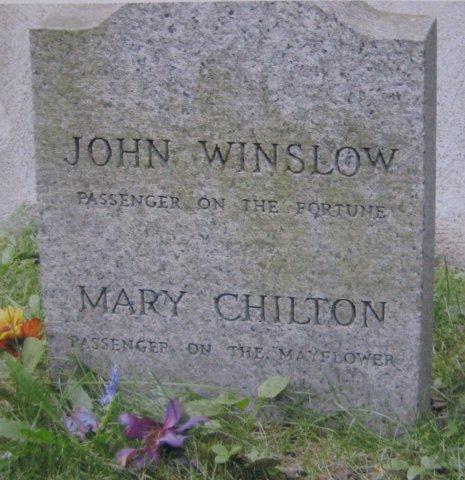 Mary and John are buried in King's Chapel Cemetery
Tremont Street, Boston, Massachusetts.
Thanks to Estelle Hughes for the photo.
---
Mary and John had the following children:
John Winslow born probably before 1630.
Susanna Winslow born probably before 1630.
Mary Winslow born about 1631.
Edward Winslow born circa 1635.
Sarah Winslow
Samuel Winslow born circa 1641.
Joseph Winslow.
Isacc Winslow born 1644.
(child) Winslow born before 1650; probably died young.
Benjamin Winslow born August 12, 1653.
Generation Five
Sarah Winslow
Born at Plymouth circa 1638
Died at Boston on April 9, 1726 Št.88.

Sarah married first at Boston on July 19, 1660 to Myles Standish Jr., son of Pilgrim Myles and Barbara Standish. Myles Standish Jr. disappeared at sea circa. 1660. They had no children.

Sarah married secondly at Boston in Nov. 1666 or 1667 to Tobias Payne of Fownhope, Hereford, England. Tobias died at Boston on September 12, 1669. Sarah and Tobias had the following child:

Sarah married thirdly in 1672 to Richard Middlecott who had been born in Wiltshire, England circa 1640 and died at Boston on June 13, 1704. He was a son of Edward and Mary Middlecott. Sarah and Richard had the following children:
Mary Middlecott born on July 1, 1674
Edward Middlecott born circa 1676 (?)

Sarah Middlecott born on May 20, 1678
Jane Middlecott born on September 16, 1682
Generation Six
William Payne
Born at Boston on either 21 or 22 January 21 or 22, 1668/9.
Died on June 10, 1735 Št.66.
William graduated from Harvard College in 1689 and continued for his master's degree. He was Collector of Excise 1699-70 and in 1716; and was a sheriff of Suffolk County 1714-15.
William married first at Boston on October 11, 1694 to Mary Taylor who had been born on January 25, 1675 and died at Boston on 6 January 6, 1700/1. Mary was a daughter of James and Elizabeth Taylor. The ancestry of James Taylor is interesting because it can be traced to one of the most infamous of mediaeval tyrants, none other than "the evil King John", arch enemy of Robin Hood. Please click on Angevin Kings for this descent. William and Mary had the following children:
William Payne born on either 23 or 25 November 23 or 25, 1695.
Tobias Payne born on June 25, 1697
Sarah Payne born on either January 16 or July 16, 1699, died young.
Mary Payne
William married secondly on May 12, 1703 to Margaret Stewart, a daughter of William and Ann Stewart, who had been born at Limerick, Ireland in May 1683 and died at Boston between July 3 and November 28, 1760. William and Margaret had the following children:
Sarah Payne born on June 15, 1704
William Payne born on September 19, 1706.
William Payne born on January 26, 1707/8.
Edward Payne born on March 17, 1708/9.
Ann Payne born on June 8, 1711.
John Payne born on February 9, 1712/3.

Edward Payne born on October 1 or 7, 1714.
Margaret Payne born on May22, 1716
Richard Payne born on April 4, 1718
Thomas Payne born on April 23, 1720.
Edward Payne born on February 4, 1721/2
Jane Payne born on February 17, 1723.
Generation Seven
Mary Payne
Born at Boston on January 6, 1700/1 and was living there on October 19, 1747.
Mary married at Boston on October 8, 1724 to Jonathan Sewall who had been born at Salem on February 7, 1692/3 and died in November 1731. Jonathan was a son of Stephen and Margaret (Mitchell) Sewall. By a previous marriage to Elizabeth Alford he had daughters Elizabeth and Mary Sewall. Mary and Jonathan had the following children:
Margaret Sewall
Jonathan Sewall (died less than 1 year of age)
Jonathan Sewall (died less than 1 year of age)
Jonathan Sewall
Jane Sewall
For the continuation of this line, please click on Jonathan Sewall
Please visit the Sewell Genealogy Site Map