Beatrix Sinclair
Beatrix is shown in The Scots Peerage as a daughter of the 2nd Earl of Orkney: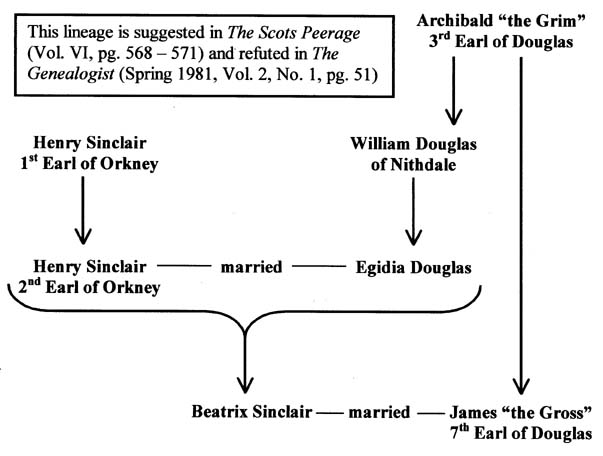 According to this genealogy, Beatrix Sinclair would have been both a great granddaughter and a daughter-in-law of Archibald "the Grim" Douglas. Beatrix would have been married to her mother's uncle. Andrew MacEwen shows in The Genealogist (Spring 1981, Vol. 2, No. 1, pg. 51) why this could not be so and suggests that Beatrix was probably the youngest daughter (perhaps posthumous) of Henry Sinclair, 1st Earl of Orkney and a younger sister (and not a daughter) of Henry Sinclair, 2nd Earl of Orkney.
Some highly respected web sites appear to get around this problem by showing Beatrix as a daughter of the 2nd Earl (as in The Scots Peerage) and then leaving some details out. Examples are where they:

Home Pages for the above sites: thePeerage.com Directory of Royal Data Leo's Site WW-Person
I think the most logical and likely solution to this problem is found in
The Genealogist, Volume 2, Number 1 (Spring, 1981) which is copied below
and suggests that Beatrix was the youngest daughter (perhaps posthumous) of the 1st Earl.

Thanks to Sewell Vincent Sample for this information.
---
SOME CORRECTIONS TO THE SINCLAIR PEDIGREE
Andrew B. W. MacEwen
Beatrix Sinclair, Countess of Douglas. She was married before 7 March 1425/6 to James Douglas of Balveny, called "the Gross", afterwards 7th Earl of Douglas,1 and is described on his monument as daughter of Henry; Earl of Orkney.2 According to The Scots Peerage3 she was the only daughter of Henry, 2nd Earl of Orkney of that name, by his wife Egidia, daughter of Sir William Douglas of Nithsdale and granddaughter of King Robert II. The Complete Peerage is unsure which Earl Henry was her father.4
This is not really a question, however, for the second Earl Henry married a niece of James the Gross. Had Beatrix been a daughter of this marriage, she would have been her husband's grandniece (of the half blood), since Sir William Douglas of Nithsdale was a natural son of Archibald "the Grim", 3rd Earl of Douglas.5 Such a relationship is inherently unlikely, and two dispensations disprove it altogether. The sons of Beatrix, William and James, the 8th and 9th Earls of Douglas, were successive husbands of their cousin Margaret, only daughter of Archibald, 5th Earl of Douglas. Her mother, Euphemia Graham, was a descendant of Robert II, while her father the 5th Earl was himself a grandson of Robert III.
The dispensations6 are dated 24 July 1444 and 27 February 1452/3, and in each the relationship dispensed is the 2nd and 3rd of consanguinity (representing the common descent from Archibald the Grim). Had the Countess Beatrix also been descended both from Robert II and from Archibald the Grim, her sons would have been related to Margaret in three additional ways (4th and 3rd, 4th and 4th, and 4th and 4th of consanguinity), but this is clearly not the case. Beatrix was thus a daughter of the first Earl Henry, slain in 14O4,7 and she was probably his youngest, or even posthumous, child.
Although Countess Beatrix was not her husband's grandniece, it is perhaps of interest to note that both her brother, the second Earl Henry, and his son, Earl William (of Orkney, afterwards of Caithness), married granddaughters of the same man, Archibald the Grim, Earl of Douglas.
---

1 She may have been his second wife, unless he remained a bachelor for twenty to twenty-five years after attaining his majority. If he did have an unknown first wife, she was not a daughter of Robert, Duke of Albany.

2 Inscription printed in Sir William Fraser, The Douglas Book, 2 (Edinburgh, 1885) p. 623.

3 6: 570-71.

4 4: 435, n.(c.)

5 The Scots Peerage 3: 163-64.

6 Callendar of Papal Letters 9: 467, 10: 130-31. Communicated by Dr. I Lorne Campbell of London, who had also noticed the problems of Beatrix's parentage.

7 The Scots Peerage 6: 596.
---
Click to return to Beatrix Sinclair and her family on the Prince Henry Sinclair page.
Please visit the Sewell Genealogy Site Map for other pages in this series.